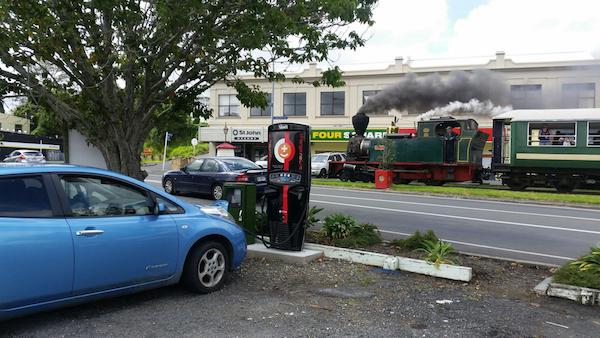 They are on a ROLL!
Come to Kawakawa this Sunday, February 7th for the markets, local hospitality, and to welcome the newest electric vehicle fast charging station to be switched on in New Zealand.
Cake, test rides in electric cars and a ribbon cutting by mayor John Carter will be commencing from 10:00am. This station is the continuation of a robust Electric Vehicle loop that will give entry level Electric Vehicles more access to the winterless North.
Kawakawa is the latest town to host a Fast Charging station that can top up an electric vehicle in minutes, and help keep New Zealand charging forward with this exciting new transport technology.
Collaborative efforts between local Northland sustainability advocate, Craig Salmon, and Northpower, as well as local and district councils and the 100% Kiwi owned and operated ChargeNet NZ have ensured the far north town of Kawakawa is following suit with the rest of Northland, and punching well above its weight in the Electric Vehicle stakes.
This is the fourth fast charging station in the ChargeNet NZ network to go live. There are nine more stations up and down the length of New Zealand currently under construction.
"We are extremely pleased with the way things are progressing." Said ChargeNet Chief Operating Officer Nick Smith. "There will be more than a dozen fast charging station operational by Easter, and we are seeing an impressive increase in the number of Electric Vehicle's being registered in New Zealand."
Fast Chargers relieve the range anxiety of Electric Vehicle owners, by giving them confidence that they can recharge in 15 minutes while on the go.
- Northland boasts the highest number of Electric Vehicles per head of population in New Zealand
- Charge.net.nz are working with several successful Kiwi companies to roll out a robust network of Fast charging stations across New Zealand
- It is the goal of ChargeNet and their partners to install a network that will allow an entry level Electric Vehicle to travel quickly and conveniently anywhere in New Zealand
- Electric Vehicles have been sited in many national and international studies and publications as an excellent way to reduce carbon emissions
- The Electric Vehicle driver experience is fast, quiet, responsive and Electric Vehicles consistently top customer satisfaction ratings
- ChargeNet charging stations are powered by certified 100% carbon free electricity from Ecotricity
- Fast charging costs between $5.00 and $10.00 on average